Happy New Year!
I thought it would be a good time to reach out via the blog and check in. I know you hear from me with each Single Because Podcast episode, but I'm in need of this sort of contact with all of you.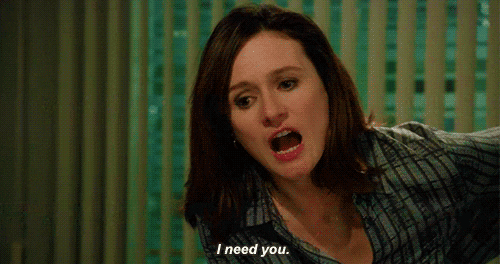 I've been on and off dating apps over the last year. I've even had a few experiences that have gone beyond a date or two. Alas, in the words of U2, I still haven't found what I'm looking for. It's not for lack of trying, though.
Who am I kidding? Here's the truth, I've been half-assing it most of the time, even with men who might be mistaken for the models on the over-50 dating site ads.
Sometimes it's just a boatload of aggravation getting dressed up, applying makeup and then squeezing into fucking shapewear to make small talk with a stranger. Don't get me wrong, it's nice to look across the table at a gorgeous man, and I've  dated quite a few lately. But, here's what I've discovered and it's likely because of my age:
It's not enough.
Now, I don't mean it's not enough long-term, what I'm saying is a pretty face won't cut it even for
the casual horizontal hula. Sex just isn't fulfilling if the person doesn't grab me—and by grab, I mean all of me. I need smarts, humor and someone with an interesting life. A little swagger doesn't hurt either. Sheesh, I'm not asking for the moon. All right, the section of my dating profile that states, "Must have given a TED Talk and, don't try to squeak by with TEDx," might seem, um, delusional to some.
C'est la vie!
I've also found I would rather focus on my writing. Coupling up just isn't as important as it once was. I often feel that I'm living my life backward and when I hear people my age speak of retirement I can't help but shudder.
I married and had my daughters quite young, got divorced, raised them and worked a job I enjoyed but it wasn't my passion. It was satisfying enough and it paid the bills.
Then, I had a great big beautiful love and was widowed—all by the time I was 45. I didn't have my twenties to find myself, act irresponsibly then begin to establish a career that was based on work I loved. I've only had that for the last eight years and I still haven't really accomplished anything, dammit! Well, maybe the irresponsible part, just a bit.
I want professional success and that's really where I've been laser-focused. I finished the book about my year of online dating. I've sent it out to agents and small publishing houses not requiring an agent submission, but haven't had much interest. I'll keep trying and may eventually self-publish if I can't sell the darn thing.
I worked with a friend of mine, Michael, a talented screenwriter who's had an amazing career and worked for several major studios. Together, we created a scripted series based on the blog and book. Michael was a wonderful teacher as we wrote the pilot script and bible and although he's not one for collaborating, he was kind enough to make an exception. The series, a dramedy, is made for streaming services or cable (lots of swearing).  It is called, "Broken Heals" and we'd love to find an audience.
I've also been writing a memoir based on the two years my husband and I lived in Russia called, "Mudderland." Since I had a crash course in screenwriting and wasn't sure how much I'd retain, I went ahead and created a scripted series, a comedy, based on the book that I'm still in the process of writing. This is a comedy because our life in Russia is a ridiculous gift that keeps on giving–if one is writing about it after the fact instead of living in the craziness, of course. I have the pilot script and series bible finished. "Mudderland" is another project I would love to sell. It's hard (some have told me impossible) to sell these projects as an unknown, and that's exactly what I am. If I could finagle a way to get the right eyes on either or both, who knows what might happen? I'm not sure how, but I'm going to keep pushing. With all the female-driven work finally getting attention through people like Reece Witherspoon and her Hello Sunshine production company, all it takes is one person to read it and believe it's a story that should be told.
So now you know all that's going on in my life–lots of work and very little lust. BUT, I'm happy and busy and I'm feeling fulfilled. Not as content as I would be if I could actually figure out a way to support myself with my work–but I'm doing everything I can to get there.
I was recently in a DatingAdvice.com article, and if you're interested, you can read it HERE. It was an unexpected and wonderful surprise and while you're there, check out the site. DatingAdvice.com is the leading web authority on dating and an excellent resource.
I hope you had a wonderful holiday and New Year. I don't know about you but I was glad to put 2017 in the rearview mirror. I haven't slept through the night in over a year. As my grandmother used to say, "Every night I'm up and down like a whore at a picnic." The cause of my insomnia is clear: the fucking nightmare that is Donald Trump and his insane administration. I never thought I'd worry about nuclear war. I can't even get out of bed without looking at Twitter. I need to know what that lunatic will destroy next.
*takes a deep cleansing breath*
Here's wishing everyone peace,  joy and restful sleep in 2018. What's new with you? Feel free to dish some dirt in the comments section. I always love hearing about your lives.
PS: I've really missed you.
Melani
"It is one of the blessings of old friends that you can afford to be stupid with them." Ralph Waldo Emerson